With the upcoming vacation season looming, here are some great tips for hiring a pet sitter to keep your pets comfortable at home . . . ♥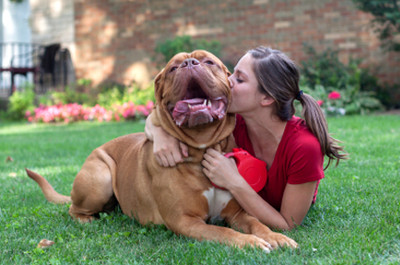 While boarding facilities are a great option for many people, some pet parents feel more comfortable hiring a pet sitter to stay home and care for their pet while they are away. Pet sitters and pet parents can make for a winning combination in companion animal care, but the secrets to this relationship are preparation and communication. If you are planning on hiring a pet sitter, here are some tips that help ensure a seamless experience:
1. Make sure that the pet sitter you hire is bonded and insured. Ask if they have any certifications relevant to sitting. And don't be afraid to ask for references. A big plus is if they are current members of a pet-sitting organization.
2. Try to make reservations as far in advance as possible. Some of the best sitters book up months in advance, so plan ahead to ensure the best care for your pet kid.
3. Gather everything needed to care for your pet in one easily accessible area. Supplies could include food, treats, food and water bowls, medications, a leash, a can opener, toys, garbage bags, litter and scoop, a dustpan, a broom, a watering can for plants, etc. Be sure to leave your supply well-stocked on the off-chance your return is delayed.
4. Clean out the refrigerator and empty the garbage before leaving the house, to help avoid food spoilage and to remove all temptation from your dog to go excavating. Pre-program the thermostat before you leave and give specific instructions for the sitter about an acceptable temperature range. Remember ~ an unventilated home can become very hot, very quickly.
5. Notify your veterinarian in writing that a pet sitter will be caring for your pet. Pre-authorize the sitter to provide emergency medical and/or surgical care during your absence, should a crisis arise.
6. If you plan to leave a gift for your sitter, i.e. garden produce, candy or a tip, leave a note of explanation. As a group, pet sitters pride themselves on honesty ~ if you don't make it explicit that the gift is for them, they usually will not take it.
7. Communication is key to a successful pet-sitting experience. By-and-large, pet sitters want to learn as much as possible about your pets. They want to know about their health, habits, routine and how they might react to certain situations. In addition to exchanging contact information, they also want to know detailed information, such as if the toilet tends to run if other people will be checking on your pet and veterinary contact information. Specific information helps a sitter to do their job to the best of their abilities. Here are some examples of unclear and clear communication to help you know what level of detail you should share with your pet sitter:
Unclear: Feed twice daily, fill the bowl half-way.
Clearer: Feed 1 cup of Life's Abundance kibble in the morning and 1 cup in the evening. Food is located in the pantry off the stairs and the bowl should remain by the back door.
Unclear: Pills in the morning and evening.
Clearer: Tilly gets 1 tablet (0.4 mg) levothyroxine in the morning and in the evening with food. Tilly and Max each get one tablet of Life's Abundance Skin & Coat Supplement once daily in the morning. Pills are on the counter next to the kitchen sink. Tilly and Max will eat the Skin and Coat supplement, but you have to hide the levothyroxine for Tilly in a piece of cheese. Max will eat the medication if Tilly drops it, so make sure Max is in a different room when you give Tilly her medication.
Unclear: Feed dogs separately.
Clearer: Max eats his food more quickly than Tilly, and then tends to bully Tilly away from her food. This has resulted in a couple of aggressive acts, but that's rare. Feed Max in the living room and Tilly in the kitchen. Be sure to keep them separated until they've both finished their meals. It generally takes Tilly 20 minutes to finish her food. Each dog may have one dental treat after they finish their meals. Tilly prefers to have her cookies broken into halves.
This information should be kept in the same area as all the supplies. Save everything in a computer file and you won't have to duplicate the task every time you hire a sitter. Providing the right information, with all pertinent details, not only makes your sitter's job easier but keeps your pets happier and safer, which is the common goal we all share!
Raven is an engaging entrepreneur who encourages others to celebrate pets (and ALL animals) as part of the family, as well as keep them happy, healthy, and spoiled with her Holistic Healing, Animal Intuition, Aromatherapy, Animal Reiki (www.HolisticPetsAndPeeps.com & www.HealingOilsForAnimals.com), as well as her premium pet food business (http://www.PremiumPetFoodStore.com)

For more information, please visit her Facebook page to PM her (https://www.facebook.com/HolisticPetsNPeeps), or email her at HolisticPetsAndPeeps@gmail.com.